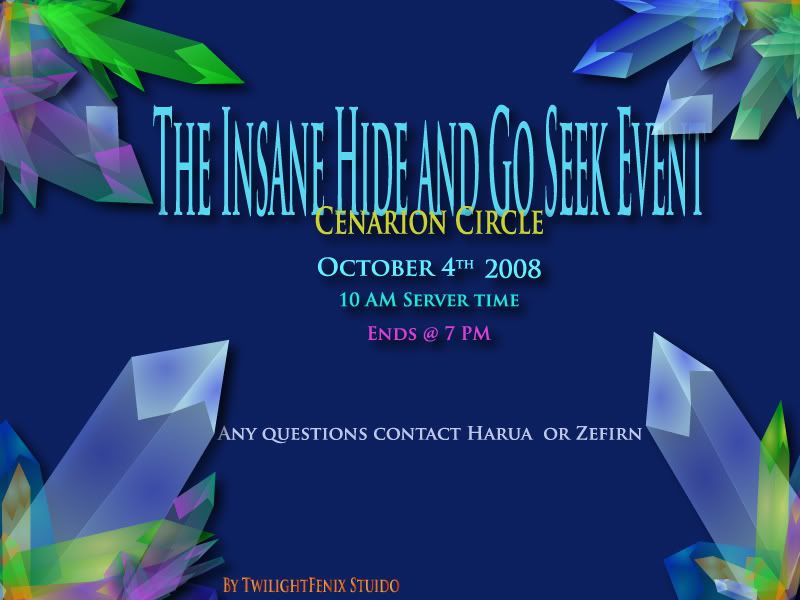 a)
Horde Capitals / bases
b)
Alliance Capitals / bases
c)
Not in the water. [Islands are fair game]
e)
Not up in mid air on a flying mount.
2.
Has to be in or on a stationary point [Boats and zeppelins are off limits]
3.
Must stay put until discovered.
4.
May only move when Duel is lost or won.
5.
Once a location is found a clue will be broadcast to those participating.
II.
Dueling rules for level 64 and higher
1.
You may use guardian & battle elixirs; however you may not use mana or healing potions during the duel. If caught you will forfeit your duel and person is allowed to find a new spot to hide.
2.
You only get to duel once per a location no rematches.
3.
If you win duel we will receive a prize/voucher. You can play as many times as you want but if you win you must sit out on the next round.
4.
If you lose, person is allowed to find a new location.
5.
Duels can't be refused by the person hiding unless any rules are violated.
III.
People under level 70
1.
Since the person is level 70, we want to make it fun for everyone of all levels. If you are below 64 and find the person. You will get a mini award. This will also affect the person hiding and is allowed to move to a new location if found.
Round one for levels 64 – 70
Choice of:
-
A personal hunter or healer for the day [PG-13]
Round one for levels below 64
Choice of:
-
1 Stack of potions your choice
Round two – Five for levels 64 – 70
Choice of:
-
A personal hunter or healer for the day [PG-13]
Round two- five for levels below 64
Choice of:
-
1 Stack of potions of our choosing
Round six for levels 64 – 70
Choice of:
-
A personal hunter or healer for the day [PG-13]
-
Commissioned art piece of your toon by me [http://phoenixgoddess.deviantart.com/]
Round six for levels below 64
Choice of:
-
2 stacks of potions of our choosing
-
Commissioned art piece of your toon by me [http://phoenixgoddess.deviantart.com/]